So what is the ACC and what does it do? 

ACC Application is the link at the bottom of this page. Print it out, fill it out & return it to: 

https://www.autumnlakeofpearland.com/p/SUBMIT-ACC-APPLICATION


Autumn Lake has a new ACC Committee Review Platform in place on our community website:
If you have a ACC Application submitted presently and you have not yet been approved please call Ken McArdle at 832-725-4520 asap so we can get yours approved as Associa has rejected all the Acc Applications in Townsquare since we just left Associa to become a self-managed community.
Why do we have to send in a ACC APPLICATION to fix up our homes and property???
As a HOA Community Autumn Lake must have a ACC Review Committee to review and approve all major improvements such as but not limited too:
Adding a new roof. (Must be consistant to roofs in our community) 
Adding a room addition or building onto the existing home.
Adding a balcony or deck.
Building a new fence.
Adding additional plumbing across your property.
Building a swimming pool.
Adding solar Panels.
These are a few and there are many other structures that when built need to be reviewed 1st by the ACC Review Committee before you start beaking ground or starting a roof job. This helps our community ovoid gas lines, water lines, electrical lines etc… from being damaged or causing injury to yourself or others. Sometimes permits are required. A plat map that can be found in your closing papers is almost always requested.
HOW DO I SEND IN MY ACC APPLICATION AND WHERE DO I FIND IT???   
You can find the actual ACC Application to fill out on our community website listed under COMMUNITY DOCUMENTS:
Once you click on community documents the drop box will show: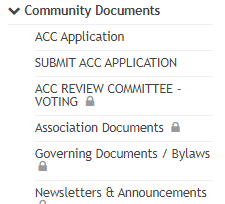 The link below takes you directly to the ACC Application:
https://www.autumnlakeofpearland.com/file/document/833372556/q11JFsx6Ca3nRZ3r.pdf
Once you have filled out your ACC Application you will need to download it and all your contractor specs and notes to: (Note : To help simplify this process we have made it possible for your contractor to fill out the information and email it to us as well. Be sure when your contractor send in your docs that they also have all your homeowner information as well: Name - address - phone number - email 
BELOW IS THE LINK - SUBMIT ACC APPLICATION:
 https://www.autumnlakeofpearland.com/p/SUBMIT-ACC-APPLICATION
Once the ACC Review Committee has recieved your ACC Aplication and specs they will start thier review in a ACC Review Committee Forum that is very similar to the homeowner talk forum. They can ask questions and vote when ready. 
Once the ACC Review Committee has approved your project the Board of Directors will copy and paste the actual approval into a document and attach it to an email that will be sent to you (The homeowner), your contractor if added, the Board and to the ACC Committee. 
The ACC Review Coommittee Forum can only be seen by the ACC Committee and two Board of Directors who simply monitor that each ACC Committee is getting voted on without delays.
We understand that contractors are ready to start when they make most bids and we will try our best to get everyone a quick approval :) 
Below you will find more detailed information about an ACC Review if needed:

Homeowners Associations governing documents require approval before an owner can make physical modifications or improvements to their property or within an associations common area. These modifications or improvements are regulated within the association's architectural standards defined in the CC&Rs.  The responsibility of administering these standards and the application/approval process in which they are performed falls under the direction of the architectural committee.  The ACC is responsible for:
Managing the application and approval process
Enforcing the standards set forth in governing documents fairly
Monitor the community for potential violations of standards
Make necessary recommendations to the board of directors
Review guidelines for accuracy and compliance
Make decisions in regards to guideline compliance
Educating homeowners about the set guidelines
Typically the process of approval includes these 3 steps:
Submitting application for review to the architectural review committee: The application includes the specifications of the property and the request for modifications and improvements.  Details may include pictures, architectural plans, permits and surveys.   It may also simply be a written letter from the homeowners containing all of the required information.
Committee Review: The architectural committee should meet regularly to review applications.  Based on the operation rules and fiduciary responsibility to the association, committees should review the application with set guidelines.  If variations are allowed in certain circumstances, the committee will review the plans and determine whether or not the proposal meets the necessary standards.
Decision:  Once the architectural review committee has reached a decision, they submit their recommendation to the board of directors for final approval/disapproval.  The CC&Rs define a time frame in which the committee and board must render a decision to the homeowner's application.
The Associations CC&Rs explain the provisions of creating an architectural committee that operates separately from the board of directors.  However, when the necessary provisions are absent, the board may also serve as the ACC or choose to delegate the architectural powers to a committee created by the board.
The scope in which the architectural committee operates by the development of common area interest improvements manages the following:
PUDs (Planned Unit Development): Just some examples of what you should submit to the Acc before starting:
Solar panels
Satellite dishes
Fencing
Electron volt charging stations
Exterior paint finishes/colors
Roofing materials
Structural improvements like height, design and placement
Some landscape improvements
Lot setback specifications
If it can be seen from the street, it's best to make sure first that it follows acc guidelines. 
These are some of the common improvements submitted.
Adding sidewalks, patios and driveways.
Adding a storage building, gazebo, car cover, new room to house or or other new structure.  
2023 - ACC COMMITTEE MEMBERS :
BOARD MEMBERS THAT NEED TO OVER SEE TO MAKE SURE ACC APPLICATIONS ARE ADDRESSED: